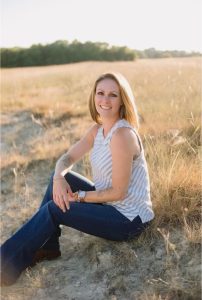 Howdy! I'm so glad you've gotten this far! My name is Beth Grear and I am an LPC-Associate for in the state of Texas and I look forward to getting to know you! My passion for counseling began during my early adult years after going through multiple and significant losses in my personal life. Due to this and the healing process I myself walked through, I felt a calling to help others overcome the trauma and life change that occurs from various types of loss, loneliness, family interruption, or inner turmoil that plagues so many of us today. In practice I aim to connect, empathize, empower, and partner with my clients as I walk alongside them while they brave the healing waters of therapy. No stranger to the work itself, I understand the commitment and time that it can take to work the counseling steps towards successful change and healing. 
I received a Bachelor of Science in both child development and psychology from the University of Texas at Dallas in 2015 and received a Master of Arts in Professional Counseling from Amberton University earlier this year. During my counseling internship, I spent many months walking alongside survivors of domestic violence. These women of all ages were either processing their past abuse or actively in an abusive situation resulting in compounding trauma. I was humbled by how brave each woman was in her healing journey and honored to help eliminate their feelings a being alone, shed light on the lies believed from narcissistic or gaslighting partners, and embolden each person to find the voice they believed they no longer had. Empowering and encouraging individuals to seek and find their own sense of worth in both their overall wellness and mental health brings me joy and is an amazing journey to watch. 
My therapeutic outlook stems from my belief that our past plays a major role in how we view ourselves, the adverse behaviors that can result, and the false inner monologue that we often tell ourselves. I believe that with mindfulness, cognitive restructuring, behavioral intervention, and a holistic and client-centered approach, healing can happen. Each of us are unique and bring with us our own individual strengths and needs that can be assets during the counseling journey. Finding those is both exciting and overwhelming but partnering with me will give you an empathic, non-judgmental, safe space to explore yourself and grow towards being able to empower yourself and gain the skills to handle whatever life may throw at you. 


Areas of practice:
Individual counseling: Ages 18+
Psychoeducational Group Counseling
Face to face appointments with limited virtual appointments
Trauma intervention
Crisis counseling
Domestic violence
Narcissistic abuse
Gaslighting abuse
Manipulative abuse
Self-empowerment
Self-confidence building
Healthy coping skills
Divorce
Blended family issues
Setting and maintaining healthy boundaries
Pregnancy loss/infertility
Adolescent to adult transition
Foster care counseling
Christian counseling
Contact Beth today at (682) 800-1932.