Hao Zheng, M.Ed, MPH, LPC (License 83279)
Phone: (325) 660-5394
Email: hzhengcounseling@gmail.com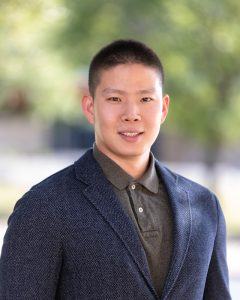 Hi. I'm Hao Zheng. You can call me Daniel. I'm a bilingual (Mandarin) Licensed Professional Counselor who works with adolescents and adults, experiencing anxiety, depression, burning out, and other unstable moods. I was born and raised in Beijing, China, and moved to Texas when I was 18 years old. I have been studying and working in Texas for more than 10 years, which makes me have a better understanding of the cultures on both sides. I am passionate about Logotherapy, which helps people focus on the future and on their ability to endure hardship and suffering through find personal meaning in life.  "Everything can be taken from a man but one thing: the last of the human freedoms—to choose one's attitude in any given set of circumstances, to choose one's own way." —- Viktor E. Frankl
I used to work as an inpatient therapist at Oceans Behavioral Hospital in Abilene for adults with depression, anxiety, and substance use. I also spend my summertime volunteering in Camp Courage for children age from 7-17 who have suffered loss of a loved one through death, divorce, incarceration, deployment or other painful transition.
I understand my clients through their own life and cultural experiences; thus, I work with each individual to develop a treatment plan that will help my client in meeting their goals to be the best they can be.
您好,我是一名华人心理咨询师。我毕业于基督教大学Hardin-Simmons University心理咨询专业,并于2019年取得执照开始咨询。我在北京出生长大,在18岁时,来到德州开始学习生活工作,所以我十分理解中西方文化差异会造成的压力,不认同,以及迷茫。我曾很荣幸的为美国意义治疗协会主席Dr. Robert Barnes工作,学习四年,期间我了解到意义治疗在帮助人们找寻自己人生的意义以及价值从而伴随人们克服克服人的至暗时刻。
"人所拥有的任何东西,都可以被剥夺,唯独人性最后的自由,也就是在任何境遇中选择自己态度和生活方式的自由不能被剥夺。"— 维克多·弗兰克
我曾作为医院住院部的咨询师为抑郁症,焦虑症以及药物滥用的成年人提供一对一以及团体心理辅导。同时在每年暑期作为志愿咨询师参加当地临终关怀组织的"勇气营",帮助7-17岁青少年度过悲伤的经历。
我明白每一个客户的需求和经历都是独特的,所以会针对每个不同的客户制定出专属的治疗方案,以此来帮助客户达成我们共同的期待!
Sliding Scale Available
Free Initial Consultation


Specialties of practice include, but are not limited to:
Adults/Teens above 8 years of age
Bipolar disorder
Coping skills
Divorce
Family conflict
Grief
Mens issues
Peer Relationships
Racial Identity
School issues
Self esteem
Suicidal ideation
Emotional burnout
Contact Daniel today at (325) 660-5394.