Sarah Stufflebean, MS, LPC-Associate (License 88613)
(Supervised by Bob Good, LPC-S | 214.642.8737)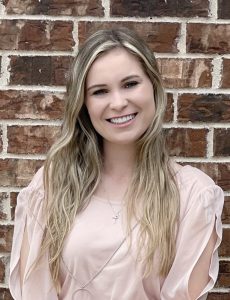 Sarah was born and raised in California and moved to Texas when she was 17 years old, where she graduated from Georgetown High School. Sarah is the youngest of three siblings and married her husband in 2018. They have one cat and one dog and look forward to expanding their family in the future. Sarah has a strong relationship with Jesus Christ and in college she discovered her passion and calling to help others.
Sarah attended the University of Mary Hardin-Baylor where she played soccer and became a member of Psi Chi Honor Society and the Dean's list. Sarah earned her Bachelor of Arts in Psychology with a minor in Christian Studies. She then went straight into her Masters program at Grand Canyon University and obtained her Masters of Science in Clinical Mental Health Counseling. While completing her education, Sarah had a yearlong internship at an outpatient adolescent center in Frisco, TX. Sarah has gained experience working with those who struggle with anxiety, depression, mood disorders, eating disorders, substance use disorders, gender/identity crises, and interpersonal relationship battles. Sarah also has experience working at a pregnancy help center and walking alongside those with unwanted or unexpected pregnancies and abortions.
Sarah enjoys using cognitive-behavioral therapy (CBT), solution focused therapy, and reality therapy as they are direct and effective, but she emphasizes diversity in her practice, as she believes every client and situation is unique and deserves individualized techniques and treatment.  Her approach provides a very empathetic understanding alongside a non-judgmental and safe environment. She hopes to come alongside you and would be honored to support you through this stage of your life.


Specialties of practice include, but are not limited to:
Faith-Based Christian Counseling
Athlete/Athletic Counseling
Adolescent Therapy
Anxiety Disorders
Depression
Obsessive-Compulsive Disorder (OCD)
ADHD
Bipolar Disorder
Mood Disorders
Crisis and Trauma/PTSD
Conflict Resolution
Self Esteem
Eating disorder
Substance Abuse/Recovery
Marriage/Family/Relationship Issues
Career Counseling
Healthy Coping Skills
Unwanted/Unexpected Pregnancies and Abortions
Contact Sarah today at (408) 427-7766.