Lacie Morgan, M.Ed., Licensed Professional Counselor – Associate, (License 92395)
Supervised by Gina Gabriano, MS, LPC-Supervisor, (License 72754)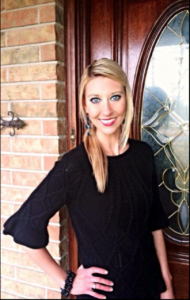 Welcome! My name is Lacie Morgan, and I am an LPC-Associate in the State of Texas. I earned a Master of Education in Counseling and Development from Lamar University and I have completed 600 + hours of supervised clinical mental health services. I earned a Bachelor of General Studies degree with a concentration in Psychology, Family Studies, and Criminal Justice from Lamar University. I earned an Associate of Science in Liberal Arts from Lamar State College – Orange.
As a former Counseling Student Intern, I had the privilege to work with survivors of domestic abuse and trauma. My mission is to raise awareness and provide insight regarding intimate-partner violence and the impacts of trauma that may occur within relationships and family dynamics. Helping individuals to not feel alone in their situation from a non-judgmental and non- pathologizing standpoint can enable individuals to have their feelings and emotions validated. I will assist individuals toward developing a sense of empowerment, mental health healing, and help individuals feel safe to share their story throughout their counseling journey.
My area of expertise is working with early adulthood, and middle adulthood ages through individual therapy and psychoeducational group counseling either (face-to-face) or (telehealth therapy). Depending on the unique set of needs of an individual's treatment planning and goals, the theoretical approaches implemented in the counseling process entails a humanistic and psychodynamic approach which aims to help clients develop a sense of self-actualization through discovery of strengths, and personal growth within one's life using Person-Centered Therapy, Cognitive Therapy, Eclectic Therapy, Trauma-Informed Care, and Theory of Motivation.
Having a natural ability to empathize and sympathize with others is my driving force and commitment to pursue a profession as your therapist. My passion is to help others live their life to their greatest potential by assisting individuals to discover their inner strength and courage. My authenticity, warm personality, and unconditional positive regard toward others can enable individuals to feel comfortable while seeking my counseling services.
My goal is to create a warm and enriching therapeutic environment for individuals to retreat and to establish and maintain a healthy therapeutic relationship by ensuring trust and respect with all individuals seeking therapy.
"Empathy is seeing with the eyes of another, listening with the ears of another, and feeling with the heart of another."
– Alfred Adler

"Love one another and help others to rise to the higher levels, simply by pouring out love. Love is infectious and the greatest healing energy."
– Sai Baba


Specialties of Practice:
❖ Early Adulthood: Ages 18-29 ❖ Middle-Adulthood: Ages 30-64
❖ Late-Adulthood: 65+
❖ Individual Counseling
❖ Psychoeducational Group Counseling
❖ Online/Telehealth Counseling or (Face-to-Face) Counseling
❖ Intimate-Partner Violence:
Emotional, Physical, & Sexual Abuse
Battered Women
Impacts of Trauma
Feelings of Guilt & Shame
Narcissistic Abuse
Cycle of Violence Stages
Power and Control
Gaslighting & Manipulation
❖ Self-Esteem & Strength Building
❖ Relationship Issues
❖ Sadness
❖ Trauma
❖ Anxiety
❖ Depression
❖ Women's Empowerment
❖ Establishing Healthy Boundaries
❖ Development of Healthy Coping Skills
❖ Grounding Techniques, Mindfulness Practices to help self-regulate
Contact Lacie today at (409) 670-3313.