Delora K. Evans M.A., LPC, LCDC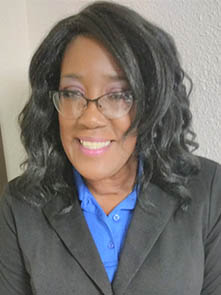 I obtained an Undergraduate degree in Rehabilitation Counseling in 2008 and obtained my Licensed Chemical Dependency Counselor credential in 2009.  I obtained a Master's Degree in Professional Counseling in 2011. I am currently a Licensed Professional Counselor. I am a Person-Centered therapist and I treat with an integrative approach of CBT, Reality and Solutions Focused therapies. I come to you with 15 years of experience in the following.
Substance Use Disorders: Specializing in treatment and intervention from Opioid Use
Mental Health Counseling (with an emphasis on the co-occurring disorders)
Family Dynamics and Addicted Family Interventions
Group Dynamics
Women's Issues
Grief, Loss and Bereavement
Trauma Assessment and Intervention (including PTSD)
Other Adjustment Disorders
Counseling for Healthy Relationships (Communication, Boundaries and Self Esteem)
I have been a valuable member of multidisciplinary Clinical teams composed of Drug and Divert Courts, CPS, Recovery
Resource Council and The Lena Pope Home. I have worked for MHMR of Tarrant County.  I have worked in various capacities
with several populations including at risk adolescents, women, and children.  I have also worked successfully with clients who
have CPS cases and have collaborated with CASA advocates.  Throughout my career I have helped Clients who are in need of
short-term crisis intervention, emotional support, substance use education, domestic violence education, relapse prevention, anger
management, parenting, goal setting, budgeting and other life skills. I have provided appropriate referral sources for continued
long-term needs. I have provided court accompaniment and guidance with legal, financial, and medical systems. I am very
interested and Trauma Informed Care approaches. Unhealthy relationships can cause emotional, psychological and physical pain,
whereas, healthy relationships can enhance and improve overall well-being. I offer relationship counseling and individual
counseling for anxiety and depression related to relationship issues. My ability to inspire, motivate and empower clients to
become more and more of their ideal self has been an asset to my career. I am here to help and become as Yalom suggest, a
Fellow Traveler with you as you navigate through life's journey.

To schedule or change an appointment, please email or call at 469-356-7966