Brooke Nelms, MS, LPC (License 82952)
EMDR Trained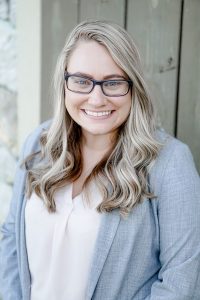 Welcome! My name is Brooke Nelms, and I'm thankful to have this opportunity to introduce myself to you. I'm a Licensed Professional Counselor who works with adolescents and adults, 12 years of age and older, struggling with adjustment, dysregulated moods, attachment concerns, and interpersonal relationship struggles, among other goals. I am the first college graduate of my family of origin. I was born and raised in Mountain Pine, Arkansas where I graduated with a class of 28 people. I am the youngest of three girls with parents that separated when I was 6 years old. At 16 my family blended, and I became the oldest child in my home with a younger sister and brother. I value family, my faith, and the community in which I serve. After graduating high school, I gained my B.A. in Behavioral Science majoring in Psychology and Sociology and an Associates in Criminal Justice from Arkansas Tech University. I went on to obtain my M.S. majoring in Clinical Mental Health Counseling from John Brown University. I have committed myself to helping others find peace and fulfillment in their daily life. Coming from a lower economic community and overcoming my own past traumas through talk therapy and EMDR, I have a unique perspective that helps me to empathize and empower those I have the honor of working with.
Experience: 
While completing my education, I worked as a Qualified Behavioral Health Provider and had the honor of working with children 5-19 years of age in the Van Buren school district and Alternative Learning Environment who struggled with adjustment disorders, mood disorders, attachment disorders, and interpersonal relationship struggles. Post Graduate school, at the start of my career in Texas, I had the privilege of working with an Intensive Outpatient Program for substance use and criminal conduct rehabilitation with clients navigating life changes and stressors that come with being involved in the judicial system while beginning their journey with sobriety. I believe when we learn to reframe the negative self-talk that keeps us from making changes, we can grow beyond measure.
I have had special training in Eye Movement Desensitization and Reprocessing (EMDR) by Compassion Works, a EMDRIA approved training organization. EMDR is an approach which is used to re-work the way 'stuck' memories are stored by the brain. I was led to this skillset when I found that many adolescents that I worked with in my graduate program were not seeing progress in their regular talk therapy sessions. Some individuals had been in therapy for years with minimal change in their ability to self-regulate and cope with adjustments. I have personally witnessed and experienced that moment where the subconscious guides you to healing what your conscious is stopping you from working through.
Depression/Anxiety
Trauma/PTSD
EMDR
Self Esteem
Boundary Development
ADHD
Anger Management/Mood Regulation
Developing Healthy Coping Skills
Grief/Loss
Substance Abuse/Recovery (must be willing to attend AA/NA outside of therapy)
Emotional Burnout
Contact Brooke today at (469) 592-1673.