Brooke Nelms, LPC-Associate
Supervised by Kimberly McKenzie LPC-S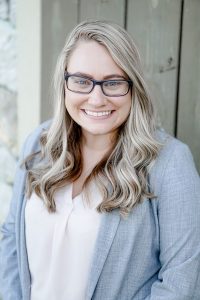 Welcome! My name is Brooke, and I am excited to have this opportunity to introduce myself to you. Let me begin by saying that taking this step toward change can be intimidating and I am honored that you are considering me to be a part of this process with you.
I was born and raised in Mountain Pine, Arkansas a very small town with a graduating class of 28 people. I am the youngest of three girls, however, at 16 my family blended, and I became the oldest child in my home with a younger sister and brother. After graduating high school, I gained my Bachelor of Arts in Behavioral Science majoring in Psychology and Sociology from Arkansas Tech University. I went on to obtain my Masters of Science majoring in Clinical Mental Health Counseling from John Brown University. While completing my education I worked with school aged children 5-19 years of age who struggled with adjustment disorders, mood disorders, attachment disorders, and interpersonal relationship struggles. At the start of my career, I had the privilege of working with adults in the criminal justice system that struggled with substance abuse disorders and the life changes that come with being involved in the judicial system.
I have been trained in Eye Movement Desensitization and Reprocessing (EMDR) by Compassion Works, a EMDRIA approved training organization. I am beginning the steps in becoming a certified EMDR therapist, an approach which is used to re-work the way 'stuck' memories are stored by the brain. I was led to this skillset when I found that many adolescents that I worked with in my graduate program were not seeing progress in their regular talk therapy sessions (some had been in therapy for years with minimal change in their ability to self-regulate and cope with adjustments). I have personally witnessed and experienced that moment where the subconscious guides you to healing what your conscious is stopping you from working through.